Chili Colorado
---
The Absolute Best Chili Colorado on the Planet !
Amaze your friends and family and receive rave
reviews, with this easy-to-make recipe for
a "muy delisioso" dinner !

Cut 2-3 lbs of beef or steak into bite-size pieces.
Place 2 Tbsp cooking oil in skillet, add meat,
cover and cook on medium until brown,
stirring occasionally. Do not drain.
Place contents of
Serious Salsa Chili Colorado Mix
packet in bowl, add 1cup water, mix until smooth.
Add to browned meat and stir.
Add one cup water and 8 oz can tomato sauce, stir.
Lower heat, cover & simmer 15 minutes.
The aroma will bring them in, the taste will make them stay!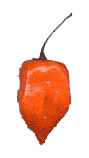 Last Updated: December 05, 2004