Oh mother, why did you die so late your dieing
took my whole life I ran away from it so. If I were to meet
you now...
Tell me then you dripping bitch how many will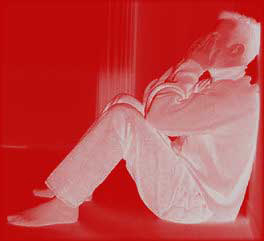 die of my hand - - how often must I choke my wife to climax?
you have laid the grain of my brain seed so.
Touch my chin child what love have you to
offer me in the alley sneaze? Metal wholes through secret books
the giant falling to the twisted arm.
The three stages of life fold by my bedside as eye
covers line up and down my leg. Door is open to stripped
smells of muscle spasm I know what you mean.
Did I ever see her naked or did I see her so too
much hysterical fear of nay-saying screams the screams never
end the yelling of the hitting bitch the rejecting one the
suicidal blood drips down her arms not to embrace me she points
to accuse me her bulging eyes wet delirium white panels of wet
bathroom tiles red swirls in faucet water.
Water that I drank the night I asked you for some
how many paralyzed nights have I spread the sheets of water down
my cheeks the cringing form of diseased memories?
To her I know my past belongs.
I saw you shave your legs so I shaved mine hairless
though they were. Thus razor slashed beautiful red blood over
arms and legs then fear...fear I may be caught and all the
bandages of the world could not hide my blood from you mother
but oh how yours hid yours! Could I see below your dressing,
the wounds I inflicted unknowlingly from so far away!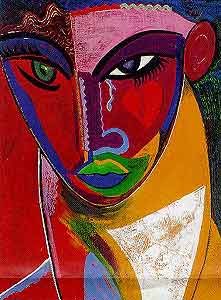 Within darkness perhaps my blood will congeal,
these first hints of my own death absorption. Ah, but my blood
still flows freely spills onto bed sheets I cry in horror. The
door cracks open till the light silts in. What's wrong off
with the blanket screams what have you done? blood and more blood
drag me to the bathroom again - - that paradigm of pain my
suicidal chapel my face shoved in blood or shit or spat out
toothpaste and your hand relentless hysterical screa ming
blows on my behind conclusions of grief like the opiate
surges of orgasm.
Total pain like a dark man spreads up my neck
till all I see is blank.
How many times have I left my body to stare at me
objectively?
Yes, let's harvest the business fiasco for what its
worth the time
Let me count the strands of your cropped black hair
your father loved.
All that is left of you is the wounds I look at